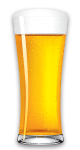 Trapista is a type of top fermented beer produced in trapeze monasteries either directly by monks or under their supervision. Trappist beer is Belgian beer type Ale or barley wine.
There are only 14 trapeze monastic breweries in the world.
Money from the sale of beer must be used only for the needs of the monastery, or to help the poor.
Alcohol content 8.5%
Similar drinks from the catalog